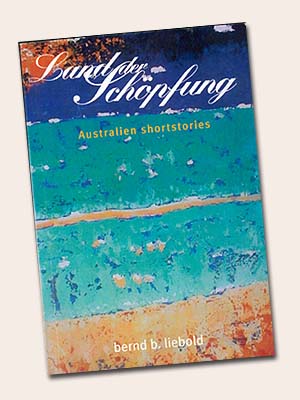 order book

in German language / price 11,00 Euro (plus porto)
BLURB [BACK]
Bernd B. Liebold is a Berliner. He is a skilled lithographer, Photographer and Cameraman. He was Assistant Director at various Hamburg theatres. He has been an Advertising Agent, Stage Manager and Film Producer. He was awarded the "Golden Lion" at the Venice Film Festival; a "Clio" in New York; and prizes in Cannes and Berlin.
He lived in Asia for a year. Later he became renowned as a designer of bedroom furniture.
In the early 1980s he became fascinated with Australia, and since 1985 has called Perth on the West Coast of Australia his home. He lives there in an old house, close to the Indian Ocean, together with Anna, his Airedale, and a Persian cat.
In his studio he paints, exhibiting his work in Europe and Australia.
The Australian Short Stories grew out of a mixture of what was told to him and what he
has experienced.

BACK COVER
Land of Genesis is a journey through the drama and mysticism of the Fifth Continent.

Two people discover each other in the wide expanse of the land. All their hopes are dashed when they encounter a bush fire.

"Sharks are behind the reef". Most of the time …

Are our thoughts and intense volition capable of transcendence? The answer seems to lie
in a controlled return voyage. But why would anyone want to return? The sun is only the gate …

Another true story. A horse is standing where it actually cannot be, should not be. And a man, if he really does exist, can certainly not exist in our time.

The logical solution to the limitations of freedom and the inability of an individual and of the system to cope with freedom is to see death as liberation.